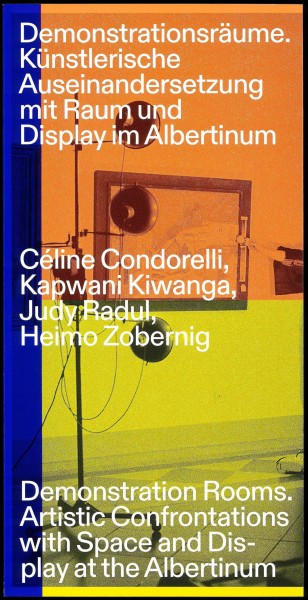 Busch, Demonstrationsräume
El Lissitzky schuf 1926 einen unkonventionellen Ausstellungsraum für Dresden: den Raum für konstruktive Kunst. Mit ihm verband er die Vorstellung, dass Raum und Betrachter*in konstitutive Elemente des Kunstwerks sind und die Kunstbetrachtung durch Elemente der räumlichen Gestaltung aktiviert werden kann. Die Publikation Demonstrationsräume zitiert einen von Lissitzky für seine Raumgestaltungen verwendeten Begriff und entstand im Rahmen der Präsentation neuer künstlerischer Arbeiten von Céline Condorelli, Kapwani Kiwanga, Judy Radul und Heimo Zobernig im Dresdner Albertinum. Mit ihren Installationen setzten sich die Künstler*innen mit dem Verhältnis von Kunst, Raum und Betrachter*in im spezifischen Kontext der Architektur, Gestaltung und Sammlung des Albertinum auseinander. Dabei griffen sie auf Kernideen Lissitzkys sowie einen Raumentwurf von Piet Mondrian zurück, der 1926 für das Dresdner Wohnhaus der Kunstsammlerin Ida Bienert entstanden war. El Lissitzky (1890-1941) einer der einflussreichsten russischen Konstruktivisten, der auf den Gebieten der Malerei, Grafikdesign, Architektur, Typografie und Fotografie gewirkt hat.
AUTHOR:

Albertinum, Staatliche Kunstsammlungen Dresden, Isabelle Busch, Kathleen Reinhardt, Hilke Wagner

TITEL:

DemonstrationsräumeArtistic Confrontations with Space and Display at the Albertinum

PUBLISHER:

Spector Books, 2020

ISBN:

9783959053525

NO:         

1216112687

DETAIL:

Maße 32 x 16 cm . 143 Seiten . deutsch, englisch
Please inform me as soon as the product is available again.